Medical-German Online Courses
for EU and non-EU Doctors
Regulations were introduced by the German Medical Council in Summer 2015 which make it mandatory for all medical professionals to be able to provide proof of having passed the language exam in order to be able to practice in Germany.
Our 6-12 week programs will help prepare EU and non-EU doctors for the coming tests.
Online Medical-German courses for doctors:
Our online German courses for doctors tailored to meet the demands of everyone. We offer weekly and evening course for medical professionals who want to work in Germany.  We also offer a "fast track" course for doctors who need the certification in a shorter time frame.
Online Courses:
Level "B2/C1"
– Preparation for the professional language examination administered by the German Medical Association.
"C1+ Advanced German Understanding for non-EU Doctors"
– Preparation for the advanced medical-german language course for non-EU doctors who would like to work in Germany.

Content and methodology for the Medicine Courses:
– Medical terminology
– Main points of physiology and pathology
– Patient medical history talks (with simulated patients)
– Patient introduction and documentation
– Doctor´s letters
– The main focus of the course is verbal communication

– Practice for Patient-oriented and Specialist language-oriented communication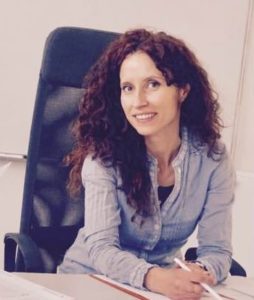 Online Course Instructor: Dr. med. Andrijana Serafin
Human Medicine (Univ. J.W.v. Goethe – Frankfurt am Main)
Specialist in Anesthesiology, Emergency medicine, Intensive Care, Pain Therapy
Lecturer for German Language and Literature (Univ. Cyril and Methodius – Skopje)
Lecturer and Examiner for B2-C1 Human Medicine
Telc German B2-C1 Medicine
Telc German B2-C1 Medicine is an exam for competence levels B2 and C1 and tests very specialised and subject-specific German knowledge of foreign doctors. This course focuses on lexis and structure in the upper level of B2 and C1, with the lexis being especially oriented towards everyday work in a hospital or a clinic. This exam is open to everyone.
Requirements for the participant: at least German language level B2
Click here for a free B2 Placement Test
Details

Students

2 – 8 per lesson

Lessons per Week

4 – 8    (1 lesson = 45 minutes)

Price per Lesson

65€ including VAT

Program Packages

Minimum Package: 24 lessons(6 weeks)=1200€      Large Package: 48 lessons(12 weeks)=2200€


Lesson packages can not broken down into individual lessons.  Lesson packages run continuously, even if the student is not in attendance.

Open Courses:
Starting May 2020   

Days/Times (Length*)
Weekly Courses

Sundays 10:00-14:00 (12w)

  -B2/C1 Course  (4 lessons per week)

Mon+Wed 18:00-20:00 (12w evenings)

  -B2/C1 Course  (4 lessons per week)

Thursdays 10:00-18:00** (6w)

  -B2/C1 Course  (8 lessons ) Fast Track (**min.6 participants)

Fridays 10:00-1400 (6-12w)

  -C1+ (Advanced German Understanding for non-EU Doctors)

Saturday 10:00-14:00 (catch-up*)




(2/4 lessons – 25/50€ surcharge)

  -B2/C1 Course

  -C1+ (Advanced German Understanding for non-EU Doctors) 

*It's very important not to miss any lessons.  Classes will continue on their curriculum as to not hold any student back for others to catch-up. Missed lessons can be made up at the end of the week in order to allow the student not to fall behind the rest of the class.
In order avoid losing lessons for missed days, "catch-up" lessons are offered at the end of the week for both courses, however a fee of 25€ (for a 2 lessons day) or 50€ (for 4 lesson day) will be charged.  If no payment is received for a "catch-up" day, the catch-up lesson day will be taken from the remaining lessons in the purchased package.

Students are allowed to stop attending a course whenever they like.  Refunds for non-taken lessons bought from a package, will not be refunded.  Single purchased, unused lessons will be refunded in full.